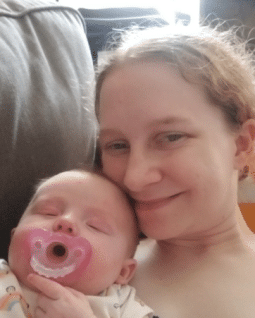 My name is Kinzey and I have been in recovery since June 23, 2021. Today, I have officially been in recovery for 4 months!
I'm still early in my recovery, but I've already accomplished so many things in such a short amount of time! One of my greatest accomplishments so far is being able to get out of bed every day without "assistance". I'm sure to some that's a small accomplishment, but for me, it's huge because now I'm able to be present and care for my baby girl, Chloe, who is 5 ½ months old.
My dad was an alcoholic, and I always wanted to do everything I could to not end up like him. My lowest point was when I finally realized that I did, in fact, follow in his footsteps, but with heroin instead of alcohol.
I'm focusing on adapting to the recovery lifestyle as a new mom with a hectic schedule. I am hoping to start the journey of becoming a peer coach very soon! I also plan on going back to school to become a substance abuse counselor and am currently planning how to achieve that goal.