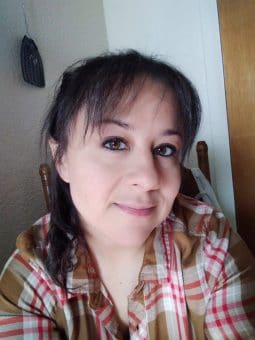 My name is Laura, and I restarted my recovery journey on November 21, 2016 which is still mind boggling to me when I think about it. 
What have you accomplished that you're most proud of during this time?
I don't think I could narrow down this vast list of proud accomplishments, but here are just a few:
  I successfully completed a 4-year ComCor sentence in just under 2 years in September 2017.  Incidentally, I graduated from Peer Recovery Coach Academy the exact same day.
I found and maintained steady employment, and though my jobs have changed over the years- this has been a huge deal to me.  While I was using, I would bounce from job to job with large periods of unemployment between those positions.  I am now employed full time with Springs Recovery Connections, where I have been discovering all sorts of new talents that I never knew I had.  I'm also currently in the process of getting certified in HR as well.  I'm so unbelievably excited to see what my future holds.
  In 2019 I began the arduous process of working on my credit (which was abysmal).  That has been quite the struggle, but in 2 years I managed to bring my credit score up over 240 points.  This has helped me to actually see my dream of owning my own home as a viable goal- not just a wishful thought.
In August 2020, I became State certified as a Colorado Peer and Family Specialist, which allows me to work as a Peer Recovery Coach anywhere in the country.
I have been finding restoration and forgiveness with my family and now have a wonderful and encouraging relationship with the people I hurt the most during my decades of drug addiction to include my son.   My mother tells me that she trusts me now, and this is the first time in roughly 20 years that she's said that.
After nearly 3 ½ years living in that sober home, I was able to move out on my own.  I finally have my own place that is comfortable and safe, and for the first time in my entire life, I am able to rely solely

 on myself to pay the bills.  I have 2 beautiful and loving tiny furry overlords (aka cats) that ground me when I'm feeling sad and crack me up regularly with their antics.  I also have an amazing support system.  I am at peace with the life that I am building for myself, and I'm excited to see what will come next.
Prior to recovery, what was a low point for you?
I've had countless "low points" during active addiction.  One certainly tops the list, though. 
Late 2016: I had been homeless (again) for a couple of years. Again.  I've been homeless for long stretches over the course of my life.  At times I had the ability to sleep in my vehicle.  This was not one of those times.  It was winter; mid November.  I was sleeping in a cluster of trees in a tent that was located off of a bike trail behind Comcor.  All my 'friends' that I had supported and helped for years had shut me out, and I wasn't even able to charge my phone with their electricity, or use their bathrooms. Every night I would pray that I wouldn't wake up the next day and would be angry when the next day arrived. I was looking at my very first drug charges.  I had avoided being caught for over 20 years, but my luck had run out and I was looking at prison time. 
One night I went to sleep in the tent that was saturated with water (from all the snow that it was covered in), enveloped by bedding that reeked of mold (from being constantly wet) and I was freezing.  I woke up at like 3am unable to move, my body was so cold.  I couldn't even catch my breath and my whole body ached in a way I had never experienced before.  When I finally unzipped my tent and saw even more snow had fallen, I just stood there, staring at nothing.  My phone was dead.  My shoes and all my clothes were wet and freezing.  My stomach was empty.  My hope was depleted… and that was kind of my breaking point.   I just burst into tears and I silently made myself a promise.  If I could pull myself out of this nightmare one more time, I would never return to this hopeless existence.  Never…ever…again. I prayed for help, and 4 days later at my sentencing, my judge granted my request for the Comcor program. 
What are you doing today to be of service and give back to your community?
In addition to being a leader in the Oxford Houses community for a number of years, which not only entailed multiple presentations to both Comcor and Cedar Springs Rehab Program, I also began volunteering (and eventually working) at Springs Recovery Connection.  I love being able to give people hope.  The journey isn't an easy one.. but it's absolutely possible as long as a person continues to put one foot in front of the other. 
I love helping others find their own paths to recovery.  We all have to find our own way- but just being able to celebrate the little and huge successes of the people that I encounter, as well as offer encouragement to people who may be struggling or have hit some sort of seemingly insurmountable hurdle, has aided me in my own recovery.  I felt useless for such a long time.  All those terrible things I believed about myself had turned into core beliefs, and I'm still chipping away at my own self-doubts. Being able to offer love and support to others has only helped me in my own life.
I also enjoy engaging with the friends and family members of people who are suffering from active addiction.  Being able to offer hope to people who are suffering from the sidelines is an amazing experience, because I want them to know that we do recover.  I love being a Recovery Warrior.  I seek to share my experience, strength and hope, but even more than that… I love to watch that light in their eyes go from dim to blazing again.