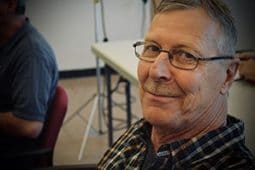 Hey, I'm Bob and I get to have a couple of recovery times and milestones. Alcohol, along with any and all other drugs, was my primary affliction, but after I started in recovery I also spent 20 years dependent on chronic pain opiates which I have been free of for 2 and a half years. My original " clean and sober " day is Sept. 18, 1994. I was 36 then and don't think I would have made it to 42 (which was how old my Dad was when he died from alcoholism)
I discovered alcohol and drugs when I was 12 and thought I had found the key to the universe – it was awesome. But by the time I was able to stop my entire existence was drinking.I was completely alone, in trouble with the law, house in foreclosure, wife and children leaving, couldn't work, and all I cared about was my next drink. Pretty cliche bottom and start in recovery. I was done, I finally gave up and completely credit my God of understanding for saving me.
So enough of the light hearted side… today I'm most thankful and proud that I get to keep growing in my recovery with the help of my higher power by trying to help others suffering with the same afflictions.
I'm also not just surviving, but still kicking and so blessed to keep building relationships with my wife, my kids, and now, my 2 grandkids
I was fortunate enough to have been trained by Springs Recovery Connection as a Peer Recovery Coach volunteer which allowed me to be part of the pilot program working in the Emergency Department of UC Health as a recovery specialist.
I also lead a men's recovery group at my church, participate in many other groups and constantly find people struggling with alcohol and other drugs (we truly are everywhere).
Peer Recovery is pretty new in a lot of circles and, as a job, but it really is at the core of what has always helped me and a lot of us. We get to help each other because of our shared experiences dealing with our illness.
We aren't bad people; we are sick and we can get better .You are not alone!! Get help so you can help others – it's what we are made