Peer Recovery Tools for Healthcare-Based Settings (NAADAC Approved)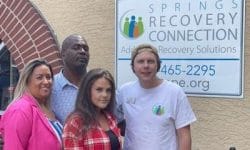 Cost: $500.00 
Where:
985 W. Fillmore St.
Colorado Springs, CO 80907
719-465-2295
August 9, 10, 2023 | (9am-5pm)
October 4, 5, 2023 | (9am-5pm)
Program Outline
Peer Recovery Professionals in healthcare settings work to improve healthcare outcomes by facilitating healthcare access; adding value to the healthcare team; and enriching the quality of life for people who are experiencing substance use disorder from diverse communities.
Call the office to register for the next training. 719-465-2295
Participants will:
Act as a liaison between providers and consumers within healthcare settings.

Support Peer Recovery Professionals prepare to deliver peer-based services like culturally appropriate health and prevention education

Referrals for a wide range of health and social services

Assistance in navigating the health services system and in coordinating care and advocating for the individuals care.